3 Ways to Get Long-lasting Moisture with Quench Ultra Rich Conditioner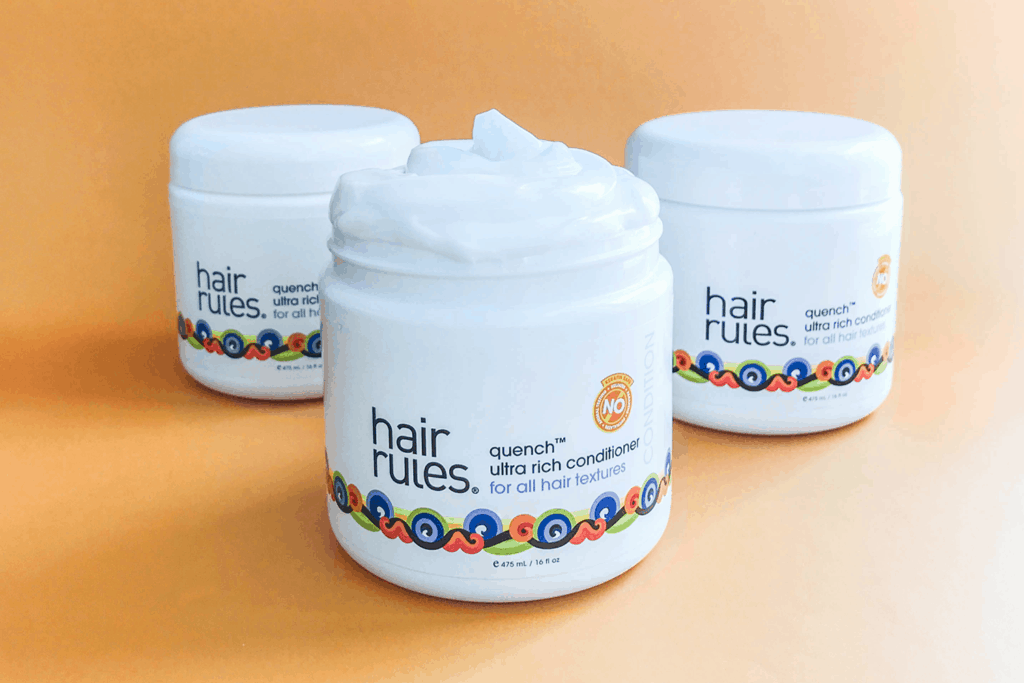 Winter is here, and it's time to make some changes. After a year that seemed desperate to dehydrate us (our skin, hair, and social lives), our goal moving into winter and 2021 is to keep ourselves nourished—and we mean hella nourished—starting with our hair. What better way to do so than with Hair Rules best-seller, Quench Ultra Rich Conditioner? While how conditioner is used changes from person to person, and texture to texture, the beauty of Quench—beyond its ability to give your hair next level moisture—is its versatility. It's the product that helps rebalance your hair for that extra bit of woah, no matter your pattern or preferred use. Enrich your me-time and haircare regime with the power of Quench and discover the top three ways it fits into your routine.
Daily Conditioner
We've heard your thirsty locks calling, and our response is Quench. Originally designed as a luxurious, high-performing daily conditioner, Quench's first use has always been to help you achieve that healthy hair glow on the daily. With ingredients like shea butter, coconut oil, and honey, Quench strengthens and rebalances your texture so it's supple around the clock. Using it every day, especially for textures that are naturally dry, have been color-treated or processed, allows your hair to maintain moisture which enhances your natural pattern so it can flow, curve, spiral, coil, or zig-zag better than ever.
Dickey's Pro Tip: After letting your hair soak up Quench for 3-5 minutes, make sure to rinse out thoroughly. Adding Nourishment Leave-in Moisturizer after will seal in and elongate the moisture your texture absorbed from Quench.
Deep Conditioning Treatment
For use number two, we recommend turning things up a notch. When it comes to Quench, the longer you leave it on, the greater the benefits. Enveloping your hair from roots to ends in Quench during your shower routine for 15-20 minutes is both deeply nourishing and great preparation for blowouts, heat styling, and protective styling. It allows Quench's high-performing formulation to penetrate deeper into the hair cuticle for a greater impact without weighing your texture down.
Dickey's Pro Tip: Don't be shy during application. Especially for naturally curly to kinky textures, processed hair, or color-treated tresses, make sure all of your hair is fully coated to reap Quench's benefits.
Overnight Mask
Like we said, the longer you leave Quench on, the greater the benefits. On days when you need some extra self-care, or for those with looong (also known as mature) locks, use Quench's luxurious formula for an at-home spa treatment as an overnight hair mask and give new meaning to next day hair! Quench is a complete sensory experience. From its rich, seductive scent that combines bergamot, mimosa, and grapefruit, to its smooth and creamy texture, to the tranquil, soothing effect it has on your mind as you run it through your hair, Quench is exactly what's needed after a long day. When applying, immerse your hair from roots to ends. Make sure your application is even with a comb or brush designed for wet hair. When finished and hair is slightly or no longer damp, wrap your hair in a satin bonnet or saran wrap with a scarf on top and get your z's. In the morning, unwrap, rinse, and style your newly rebalanced, baby-soft tresses, and work it!
Dickey's Pro Tip: Before your next blow out or performance styling session, use Quench as an overnight treatment to help defend against potential heat damage.
Quench fits into any routine, and we want to know how it works best for you! Follow us on Instagram or Facebook, tag us, and share your #QuenchConditioner experience with us.